Plastic Electronics
A new set of materials to boost the light extraction from OLED panels has been introduced by US solid-state lighting firm Pixelligent Technologies.
The company notes that the nanocrystal structure of its PixClear Zirconia range could more than double the lumen output of such panels.
The new materials are designed for application to the internal light extraction layers and smoothing layers of OLED lighting stacks.
Commercial opportunity
Pixelligent CEO Craig Bandes says: 'The OLED lighting market is ripe for accelerated growth and broad-user adoption and Pixelligent is delivering the functionality required to help OLED lighting manufacturers deliver substantially more lumens-per-watt.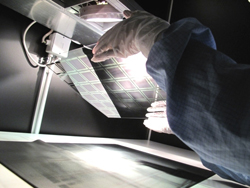 read more at: https://www.plusplasticelectronics.com/lighting/pixelligent-nanocrystals-to-double-light-output-of