Manufacturing & Distribution Executive Magazine
Written by Brian Salgado
Pixelligent has a bright future providing zirconia nanocrystals to the LED and OLED industry before expanding.
Countless nanotechnology companies have struggled to find traction for their products because they try to be everything to everyone looking for solutions from nano-scale materials. Pixelligent has taken a more disciplined approach by focusing on zirconia nanocrystals and catering only to a handful of markets in the lighting and optical components sectors as it takes its products to commercial-scale production.
"There are a lot of nano companies who have tried to do too many things at the same time and burn through tens or hundreds of millions of dollars before," says Dan Russell, senior vice president of manufacturing and operations for Pixelligent Technologies. "We are taking a disciplined approach to scale and commercialize one material system first that has broad applicability. There are numerous other materials we are capable of making."
Pixelligent was originally founded in 2000 by Ph.D. students at the University of Maryland focused on developing materials for the semiconductor industry. After a restructuring, current President and CEO Craig Bandes took over the business in 2008. The following year, Pixelligent Technologies was awarded an $8.2 million contract from the National Institute of Standards and Technology to create nanocomposites such as coatings to make brighter and more efficient LEDs and displays.
Since then, Pixelligent Technologies has brought to market its PixClear® products, which increase the optical performance of polymers and monomers with dispersed zirconia nanocrystals. These dispersions significantly increase refractive index up to 1.85, which allows trapped light to escape and devices to appear brighter.
Pixelligent manufactures PixClear® at a commercial scale and sells samples to manufacturers for testing. The Pixelligent has a bright future providing zirconia nanocrystals to the LED and OLED industry before expanding.company can customize materials for specific applications, and customers receive support including technical assistance and application notes.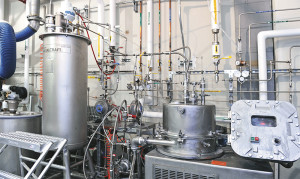 According to Russell, Pixelligent's products are the highest quality dispersions on the market. The product can be used in liquid at very high loadings to provide near-perfect optical clarity. Russell says Pixelligent is one of few of companies that offer a nano-based product for electronics that can deliver it at commercial scale.
"We have been able to work with the top LED and OLED manufacturers because we offer a technology that is scaled into tons at a cost and quality that is competitive in the market," Russell says. "Most can't make more than a few grams, or if they can, it's too expensive. We can make it in high volumes at a competitive cost and meeting all environmental requirements."
The solid state lighting industry has taken notice of Pixelligent Technologies' quick ascent to a top materials Pixelligent has a bright future providing zirconia nanocrystals to the LED and OLED industry before expanding.supplier. Russell says the company and its technology have been recognized by top industry players, research institutes and agencies like the U.S. Department of Energy.
"In the last two to three years, we really have been able to become well-known in the industry," Russell says. "Because our customers in the OLED and LED markets have recognized our ability to supply something no one else can, we have industry recognition."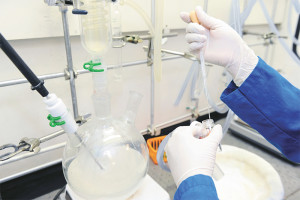 Built to Last
When working with the LED industry, suppliers must be able to provide materials that will last over long lifetimes. According to Russell, one of the biggest challenges Pixelligent has encountered is long cycles of customer qualification.
"Sometimes our customers aren't familiar with nanomaterials like our, but when they can measure the benefits themselves they are motivated to continue testing," Russell says. "Many of the products we go into, like LED lights, have long reliability requirements – the need to be guaranteed for the next 20 to 25 years. So, some of the target market for LED lighting has long qualification cycles."
Recruitment and Retention
Citing the decline of the chemical industry in Baltimore – where Pixelligent Technologies is headquartered – and the surrounding area, Russell admits recruitment of qualified employees is a key challenge the company faces.
"The challenge we have as a manufacturer and product developer within our geography is getting a good technical staff," he says. "We have to pull from all over the United States to find employees that fit the kind of technical skill set we're looking for."
In order to recruit and retain these types of employees, Russell says Pixelligent's biggest attraction is the ability to provide exposure to a variety of duties within the company, and making a direct impact on the customers.
Big Future in Nanotechnology
In the next five years, Russell says he expects Pixelligent's materials will be on the shelves of Home Depot and Best Buy, increasing the efficiency and driving down the cost of lighting and electronic devices. As the company' zirconia nanocrystals reach full commercial production, Russell says Pixelligent will explore adding other metal oxides to its product line to reach new markets.
read the original at: http://www.mde-magazine.com/index.php/features/technology-electronics/146-pixelligent