How can LED and OLED manufacturers improve light extraction efficiency? Advanced materials specialist Pixelligent CEO Craig Bandes recently spoke to LEDinside about the company's zirconia nanocrystal technology, and its applications in different end markets encompassing LED packages, OLED technology, optical components and panel displays.

Pixelligent employees checking equipment during Zirconia nanocrystal synthesis process.
Zirconia's relationship with LEE
The backbone technology of the Baltimore-based company is capped zirconia nanocrystals, which the company has invested more than US $40 million in related R&D. Commercialization of the rock hard nanocrystals started two years ago, when the company prioritized moving the technology out of the lab. The crystals can be used in polar or non-polar solvents or dispersed directly into monomers.
What makes the synthetic Zirconium oxide nanocrystals stand out as an optical material is its optical and thermal stability closely resembles diamonds, said Bandes.
Pixelligent's capped Zirconium oxide has a high use temperature range between 85 C° to 250 C°which is sufficient to cover most lighting, display, and OLED display temperature ranges, explained Bandes.
Moreover, the transparent nanocrystal has a high refractive index greater than 1.8, and a transmittance rate of 95% that enables it to significantly increase light output, efficiency, and overall performance.
"We can increase index of refraction to improve LEDs, OLED lighting, and we are currently working on improving OLED displays…because of the increased index of refraction our Zirconium nanocrystal deliver we have the ability to get more light out, which when combined with our uniform dispersion results in a transmittance rate of 95% as there are no aggregates in the system," explained Bandes.
The company has a patented and proprietary synthesis process for making and capping its Zirconia nanocrystals, where it can apply off-the-shelf capping materials to its core Zirconia nanocrystal to deliver applications in numerous markets, he added.
"What is special about Pixelligent and Yamagata University's approach is they are focused on Light Extraction Efficiency (LEE), which is different from previous material manufacturers method of advancing Internal Quantum Efficiency (IQE) to raise External Quantum Efficiency (EQE), "said LEDinside's display specialist Philips Chang.
There is a positive correlation between the three parameters: LEE, Internal Quantum Efficiency (IQE) and EQE. The formula for EQE can be expressed as IQE x LEE= EQE, where the performance of EQE is closely tied to lumen efficiency performances in various light sources.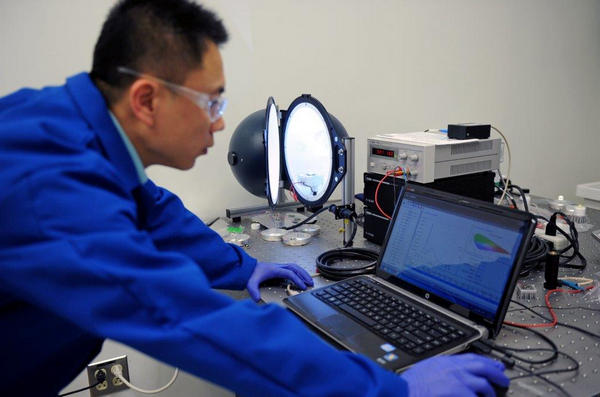 A Pixelligent employee evaluates Zirconia nanocrystal performance with a laptop.
So how does this work in advancing LED and OLED products?
Responding to how the company incorporates Zirconia nanocrystals in LED encapsulent products, Bandes responded: "The way our application works is that we integrate and disperse our (Zirconia) nanocrystals deposits into silicone." The company is working with a couple large silicone manufacturers and leading material suppliers in making these Zirconia nanocrystal enhanced LED encapsulents.
By increasing the index of the silicone, light extraction can be increased in LEDs especially for high power LEDs, offering more design flexibility and reducing overall device costs. However, it can also be applied for both mid-power and high power LED chips. Increased light through improved light extraction depends on the LED package type and the starting index of the silicone, but in general the range is about 4% to 7% additional light can be extracted per LED chip.
In OLED displays where typical light extraction is a mere 15%, boosting EQE is crucial to improving the finished OLED panel lumen efficiency. With significant funding from the US Departmen of Energy (DOE) in partnership with OLEDworks, the company has developed and commercialized a one nanometer thick Zirconia nanocrystal smoothing layer for OLED lighting applications that is capable of dramatically raising lm/W by more than 100%, said Bandes.
Related Zirconia nanocrystal materials for OLED lighting products is in progress and scheduled to reach the market in 2016, he added. Multiple customers have shown interest in the product, the CEO added, but he did not comment on the clients due to non-disclosure agreements.
The U.S. material company is targeting OLED lighting applications first, and display applications at a later date. Bandes projected the OLED lighting market will accelerate next year, and growth is expected to pick up during second half of 2017. Some driving factors he highlighted included Audi's adoption of OLED taillights and the architectural industry that is starting to incorporate OLED lighting panels in their designs.
The approach prioritizing lighting over displays is mostly because of OLED displays have a much more complicated architecture, and more technical challenges.
According to an unnamed OLED display manufacturer, OLED displays tend to have a very low light extraction rate, usually less than 15% and at max 20% of light is extracted from the system structure, said Bandes.
Building upon its experiences accumulated from working on improving OLED light extraction technologies, Pixelligent is partnering with OLED display makers to develop new light extraction technologies. The company aims to raise OLED display lumen efficiency to 60% or 70% with an innovative architecture approach. "For this application, we actually put a lens over each pixel to reduce the total reflection of light, and get dramatically more light out," added Bandes.
With OLED display applications expected to pick up following Apple's release of next generation OLED screened iPhones, the manufacturer projects that OLED display companies will demand significant increases in lighting efficiency, and for the market to boom over the next two to five years.
The company has received a lot of funding fromDOE totaling nearly US $12 million over the past few years that has also supported the company's product developments.
With few direct Zirconia synthesizing competitors on the market, and strong financial backing from the U.S. Department of Energy to develop OLED lighting materials to improve EQE, Pixelligent's focus in LEE technology has provided a leadership position in a niche material market that has a bright outlook in LED and OLED applications.
Read the original article here: http://www.ledinside.com/interview/2016/7/pixelligent_focuses_on_improving_light_extraction_efficiency_with_zirconia_nanocrystal_technology